bydlení pro seniory
An extension and adaptation of a former school building into a home for the elderly, in Prague Lysolaje
This project involves the reconstruction and completion of a small classical building, residing on the slope of a nearby valley. The aim is to provide a new functional use to this building, in the form of an intimate home for the elderly, with a various supporting services. The arched open space situated on the ground floor of this reconstructed building serves as a dining room, a café and a multipurpose hall. The first floor and loft consists of an everyday care area, with care and relaxation rooms, as well as facilities for therapists. The main entrance to the home is designed as a glass hallway, which connects the original building with the newer part. A transparent hallway offers residents views of the surrounding gardens and the green slopes of the valley, while the original classic building protects the privacy of the residents from public view, from the street. In the entrance hall is a relaxed reception area and on the 1st floor is a gallery to the entrances to resident rooms. An annex with three floors is set in the steep southern slope of the valley with resident rooms and apartments with included utilities. The resident rooms, with a total capacity of 30 beds, are oriented to the private garden on the valley slope. Each room has a small garden or balcony. The common part of the garden is terraced. An outdoor stairway located on the east side of the land, allows direct access from the street to the garden. The building has wheelchair access.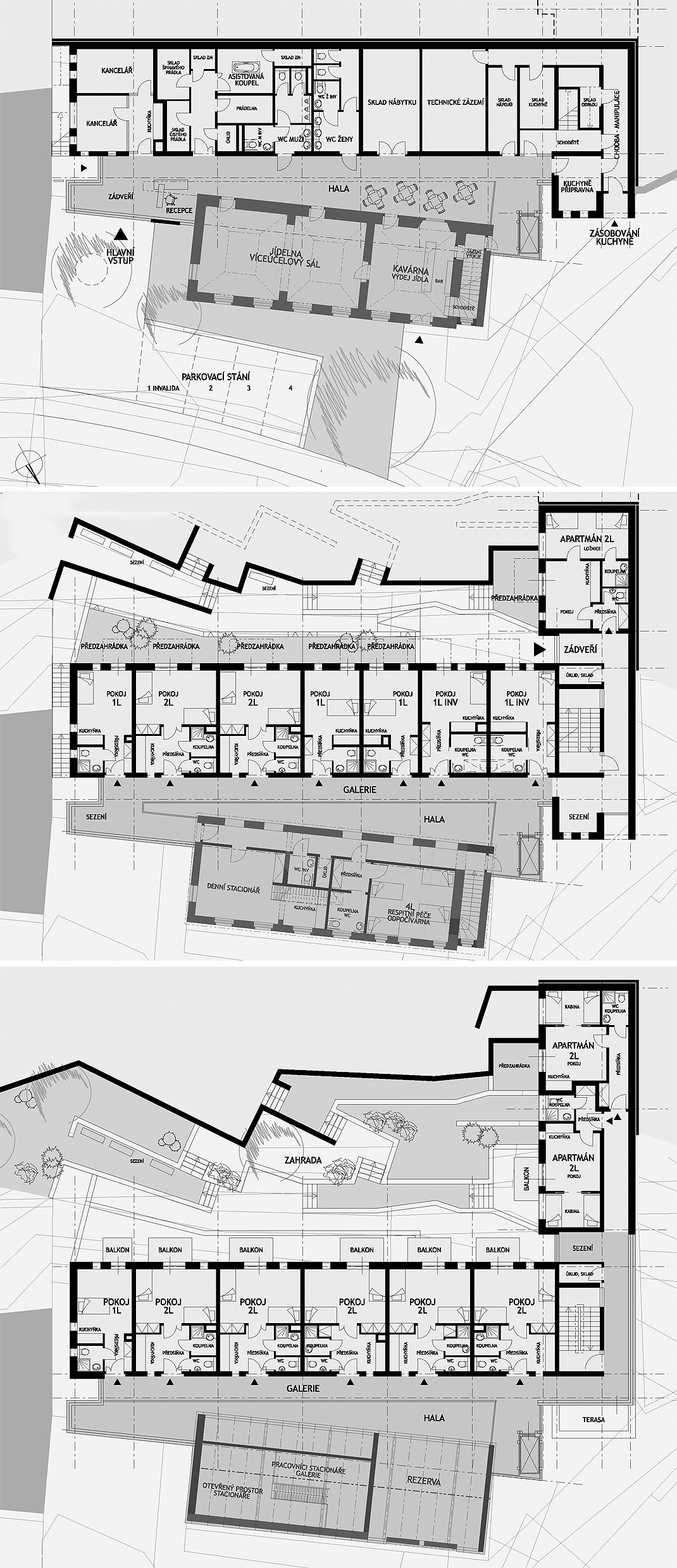 1NP/2NP/3NP
When choosing the materials and color scheme of the entire project, the preference has been for natural materials, warm and bright colors, both indoors and outdoors. Great emphasis has been placed on the effect of flora on the atmosphere of the elderly home. Most of the existing trees have been preserved, or supplemented with new ones. The design of the entrance hall, balcony railings and partition screens are designed with structures to incorporate the climbing of plants and greenery.
A 2005 project.
In cooperation with architectural studio Atelier Šesták.
Winner in an architectural competition (upon invitation).