cottages
Studio family homes and cottages, in Posázaví

These three types of housing are the result of a consideration for summer living in Posázaví. The houses allow for both short-term and also year-round occupancy. The features of these homes are influenced by the idea that the garden and the surrounding countryside are more important than the buildings themselves.

The houses are different in size, interior and materials used in construction. The houses are situated on the same land area, use traditional basic materials (including attic with gabled roofs), similar materials to nearby summer cottages and contemporary construction detail.

Compared to conventional housing, more attention is paid to security against break-ins, during long absences of owners.
A 2008 concept.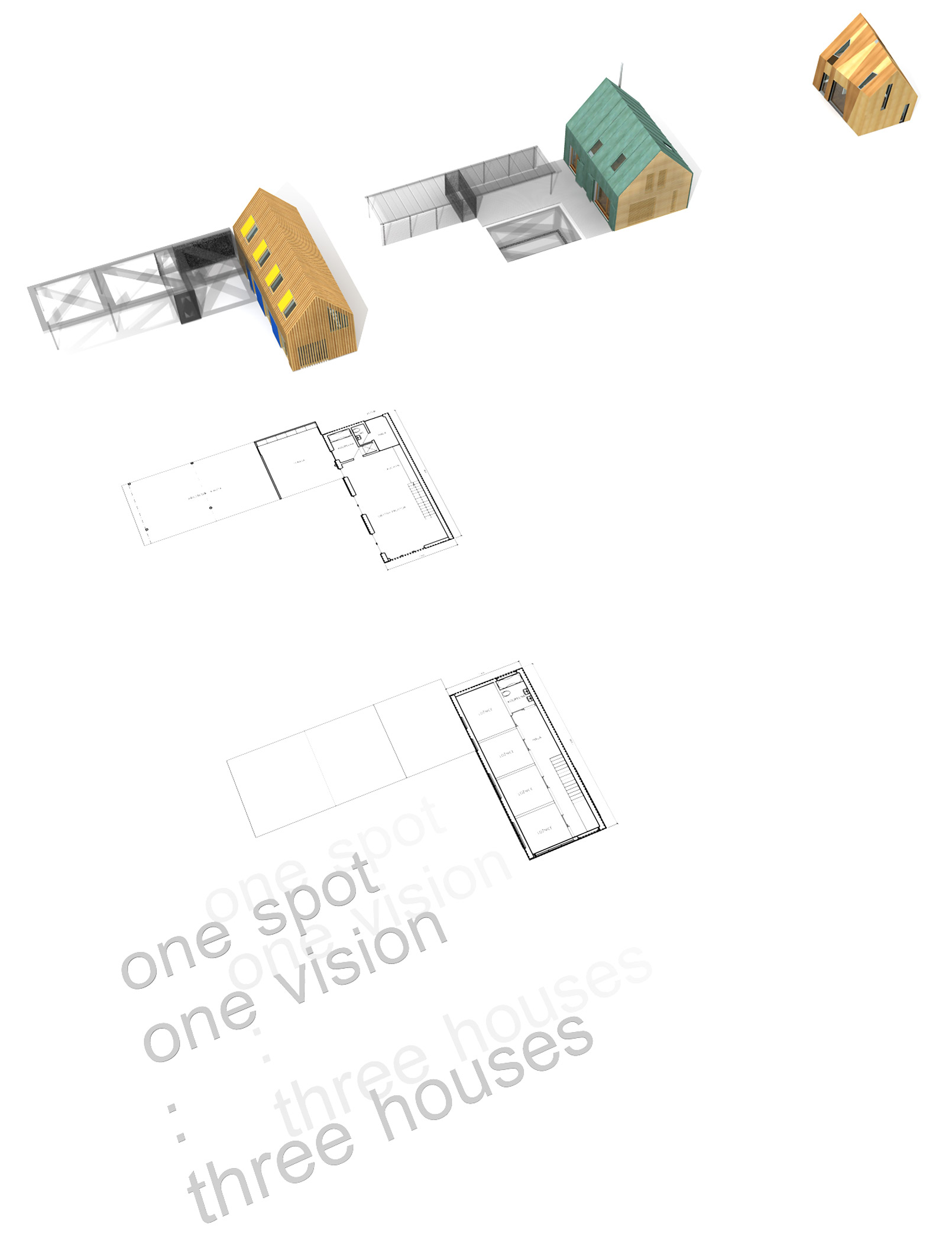 The first type (a) is the largest, and the floor division corresponds with today's standards for family houses: the ground floor is used primarily as a living area, the upstairs bedrooms face the garden and a well-lit hall features a single-arm staircase. The narrow proportions of the gable make the house look smaller. The main construction material is wood in two natural colors. Cottage openings are secured with a lattice of "wooden posts", or using sliding walls, replacing shutters.

Type (b) follows the same construction style and focuses on reducing the size of the house. The floor plan of the ground floor is divided into functional areas by sliding walls. Four bedrooms in the attic are oriented in all directions. Artificially corroded copper sheeting is added as part of the overall material mix. This sheeting is also used as the material for the window shutters, so after they are closed, the house becomes an impenetrable shell; compact, protected from the outside and the cold winter conditions.

Type (c) is reduced to a minimum size; the building floor area is only 5.5m x 8m. The house has two bedrooms located upstairs, one bathroom, a living room with high ceiling and a small gallery in the attic. The architectural style of the house uses irregular geometry, which helps reduce the enclosed space and gives the house an unmistakable style and expression. The material mix again uses two wood colours.