václavák
A proposal for design modifications to Wenceslas Square in Prague (submitted in competition)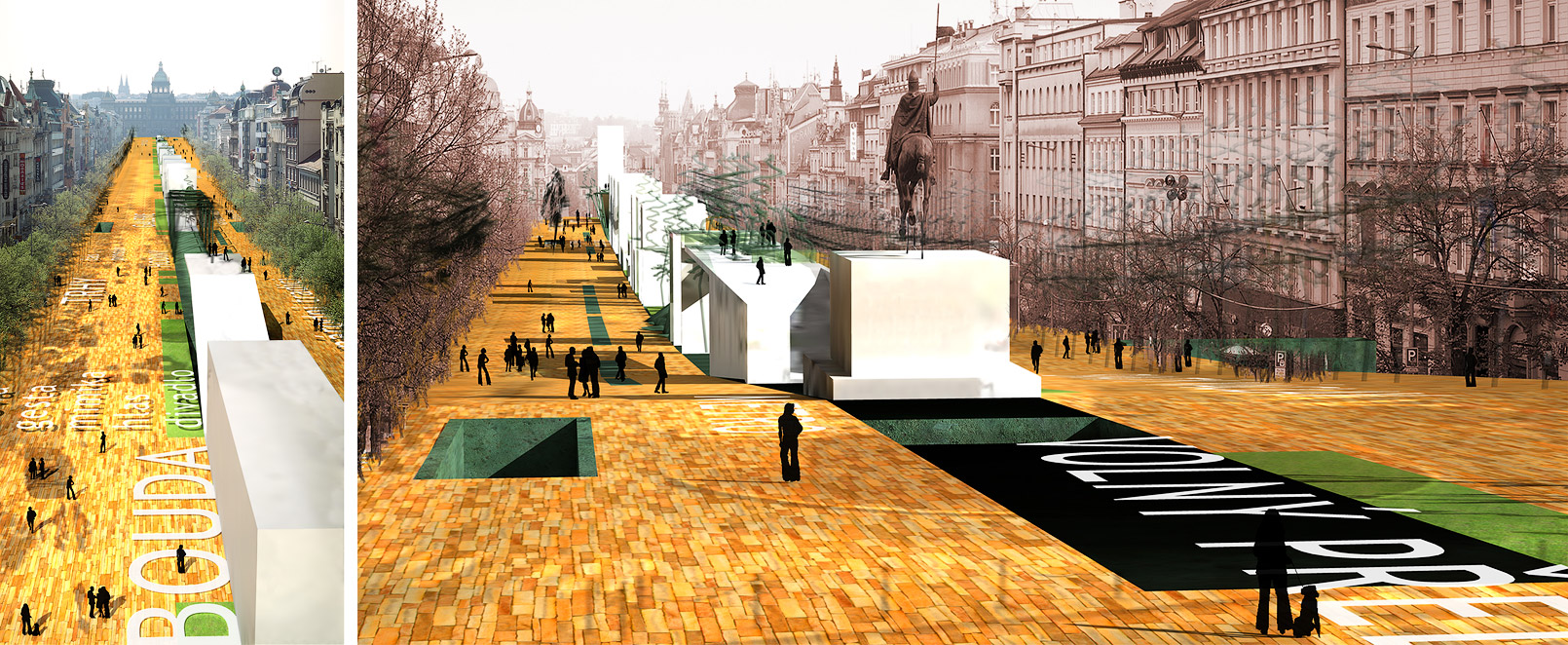 Today's Wenceslas Square can be seen in many ways: an old national symbol, an outdated tourist thoroughfare, a crime zone, and a dysfunctional symbol of the Prague transportation system. This competition was designed to provide ideas for the future appearance of the square. In the proposal, it was important to preserve existing proposed changes to transportation routes (for example the transfer the North-South city motorway, the return of trams to the square, and to include underground garages). Our proposal seeks to stimulate a neglected debate about what should fundamentally be the character of Prague's most important square. We considered it improper to propose a nostalgic theme, and decided to support a contemporary approach to how this iconic square is presented to the world.

A central element of this proposal is largely to remove and replace road traffic. By removing the eyesore of the two-lane ring road, which passes through at the top end, the square is opened up for pedestrians. The square is divided along its length into several zones with different featured areas. Alternating zones focus on cultural gatherings, tourism, transport and more. Sculpted concrete constructions give an interesting backdrop for people passing through the square, and provide areas for activities and entertainment.
Encapsulated spaces are erected, whose use can vary according to current needs. From short-term artistic installations, Easter markets, to long-term cultural and commercial spots. The design also sets out to revive the square's Bouda theater. We propose the elimination of the ČKD Building on Mustek and to recover the symbolic value of the square; to create a natural bridge between the buildings of the Old Town and the self-assured buildings of contemporary times.
A 2005 project.